Spring is in the air and so too is the push to get your body back in shape for the looming summer season. Start your year off right with these healthy, green recipes.
1. Quinoa, Avocado, Peas and Pistachio Salad
Whole grains are a must when you're trying to stay healthy. They satiate you for longer and give the body what it needs to remain active. On the plus side, quinoa takes half as long as brown rice to cook.
Ingredients
1 cup quinoa, cooked as per instructions
1 avocado, cubed
1/4 cup pistachio, slivered
1/2 cup fresh peas, or thawed frozen peas
1 tbsp of lime or lemon juice
few sprigs of fresh mint
handful of fresh basil
For coriander basil pesto

1/4 cup coriander leaves
1/4 cup basil
2 tbsp pistachios
1 tsp lime/lemon juice
2 tbsp extra virgin olive oil
1/4 of an avocado for vegan version or 2 tbsp creamy goat cheese
1/2 green chilli, or to taste (optional)
Salt and pepper
Method
Blend the ingredients for pesto in a processor and keep aside.
Boil the quinoa and let it cool.
Mix the peas, avocado, quinoa, lime juice and pesto.
Sprinkle with pistachios, fresh mint and basil.
Serve at room temperature.
2. Poached Char with Basil Mayonnaise
Combining the health benefits of fish and greens, this dish is nearly too good to be true. Just be sure to go easy on the mayonnaise unless it's fortified with olive oil or omega-3s.
Find the recipe here.
3. Greens Soup
Simply sauté a few of the ingredients, throw them into a blender, and you've got yourself a hearty soup comprised of leafy greens of your choice, celery, avocado and garlic.
Learn to make it here.
4. Chickpeas, Eggs and Spinach
This dish is perfect no matter the time of day. Beginning with a smoky roasting of the chickpeas, spinach is then added for a brief period before being topped off with a sunny side up egg.
The delicious details arehere.
5. Kale, Spinach, Apple Salad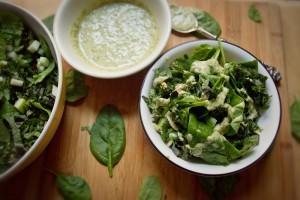 Yet again kale and spinach strike. Of course there are more green veggies out there, but these two are superheroes when it comes to the health benefits of eating green.
Learn the secrets to this green machine here.
6. Salsa Verde Chicken
Nothing compliments a chicken breast quite like a homemade salsa verde. The protein punch combined with the pizazz of the verde kick will have you making this dish more often than not.
Enjoy the recipe
7. Kale Chips
Though it may take you a few tries, kale chips are the best snack you can treat yourself to when hunger strikes. If the oven doesn't work out, invest in a dehydrator.
Start snacking.
8. Green Beans & Pesto
When you combine these two separately delicious green foods, you get a match made in heaven that works wonders as a perfectly pair-able side dish. The only note here is to make sure you don't cook the green beans too long or else the dish will end up a soggy mess.
Details for the dish can be found here.
9. Green Pancakes
For healthy pancakes, you have to think outside the box and use ingredients you wouldn't otherwise associate with breakfast. If you're not a fan of spinach, try out how other leafy greens work.
Check out this green twist on a breakfast classic here.
10. Green Smoothie
While most people use kale and spinach, don't be afraid to try out other green foods like peppers and avocado. Just remember to add a few apple slices for sweetness.
Stir it up with the recipe