Graphic design can be a very challenging task that can only be carried out using complex software. These kinds of software can really only run on powerful PCs which is usually a desktop computer or laptop. The best graphic design laptops aside from being powerful must also be flexible and handy as well. They must be powerful, be light in weight and portable. Here we list what we think are currently 6 of the best.

Apple MacBook Air MJVE2LL/A
Apple's computers have always won the hearts of graphic designers with the simplicity and flexibility of their interface as well as the power of their processors. The Apple MacBook is currently sold in Pro and Air models with the Pro model ranking in power and the Air model ranking in portability.
The Air model is usually the pick for graphic designers who are always on the move and who have to work both at home and the office. This is as a result of its slim design and feather-weight. If you are a graphic designer who desires a flexible and portable laptop, then the latest Air model; Apple MacBook Air MJVE2LL/A 13.3-inch laptop is arguably the best you can get.
Because graphic design tasks require regular reading and writing of data saved to the drive, they require high-performance storage systems. This model of the MacBook Air is created with SSD which is very fast, responsive and very spacious with a 128GB storage capacity. The SSD, portability and other wonderful features of this laptop are what graphic designers will really appreciate.
Dell XPS9350-5340SLV QHD Touchscreen Windows 10 Laptop
The screen is one of the most important parts of a laptop for most graphic designers, hence, the most valuable tool to them will be a laptop with the best display features.
When it comes to choosing a laptop with the best display feature, the Dell XPS9350-5340SLV QHD laptop is up there with the best. First of all, it is very portable and light in weight, thereby becoming an ultraportable laptop that can easily be carried around. Secondly, it has a large screen despite its small size. The groundbreaking design of its infinity screen has proven that the size of a laptop doesn't stop its screen from being adequately big. Thirdly, the display utilizes Ultra-Sharp QHD+ technology to enhance the large size impression of the screen. Apart from ensuring clarity and sharpness, it also enables the screen to function in a resolution of 3200 x 1800 pixels. Fourthly, touch screen mechanism is supported it its large screen. The touchscreen function lets a person easily drag and drop objects on the screen with the fingertips.
This Dell model is simply the best laptop when it comes to displaying features.
Lenovo Yoga 3 Pro Convertible Touch-Screen Notebook
Another very important task for graphic designers is the presentation of their projects. Even though every laptop can easily be connected to a projector, the only ones considered really suitable for presentations are those convertible ones that can take a stand position.
The Lenovo Yoga Pro 3 2-in-1 13.3-inch laptop is a convertible laptop that has a screen which can turn at an angle of 360 degrees. It is a 2-in-1 laptop that can be used as a tablet or a laptop. During a presentation, it can either be converted into a stand or a tent and offers an IPS touchscreen which is a bonus every graphic designer will find very useful.
Toshiba Satellite Fusion 15 L55W-C5259 for Graphic Design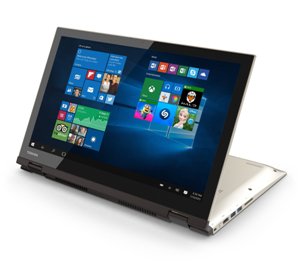 Every graphic designer is very mindful of aesthetics. Since they produce beautiful things, it is no wonder they prefer to use tools that are appealing to the eye. The Toshiba Satellite Fusion 15 L55W-C5259 15.6-inch laptop is a great 2-in-1 laptop that is very attractive aside its dual function as a laptop and a tablet. Its IPS touchscreen brings awesomeness to everything displayed on it and its backlit frameless keyboard augments the elegance of the laptop's interior. The laptop's convertible build is also an asset for presentation and other computer related tasks.
HP Pavilion 6th Gen Skylake with FHD IPS Touchscreen
The importance of audio quality cannot be overlooked by graphic designers while working on their projects. These graphic design jobs are focused on visual content as well as audio quality. With this in mind, graphic designers generally only use laptops that are strong enough to run their apps and produce quality sounds at the same time.
The powerful Core i7-6700HQ processor and touchscreen functionality of the HP Pavilion 15.6-inch laptop have guaranteed it a spot on this list. This is a lovely gadget for every graphic designer who produces animations and other media projects requiring high-quality graphics animation.
ASUS Zenbook UX303UB Graphic Design Laptop
Another important factor in graphic design is the resolution. Ever considered the number of panels in application packages like Adobe Photoshop, 3D Max and several other CAD software packages? When a screen has a low-resolution scale, it always looks cramped as it is unable to contain all the panels. Only a machine with a high-resolution display can guarantee adequate coverage for all the panels.
The fact that the ASUS Zenbook QHD 13.3-inch laptop display is powered by the latest NVidia graphics card, and that it was built with a 6th generation i7 Skylake processor with high-resolution QHD (3200×1800) touchscreen makes it the perfect choice for graphic designers. With these features, it not only offers the finest visual coverage but also adds sleekness to every motion graphic displayed on its screen as a result of its sophisticated graphics card.